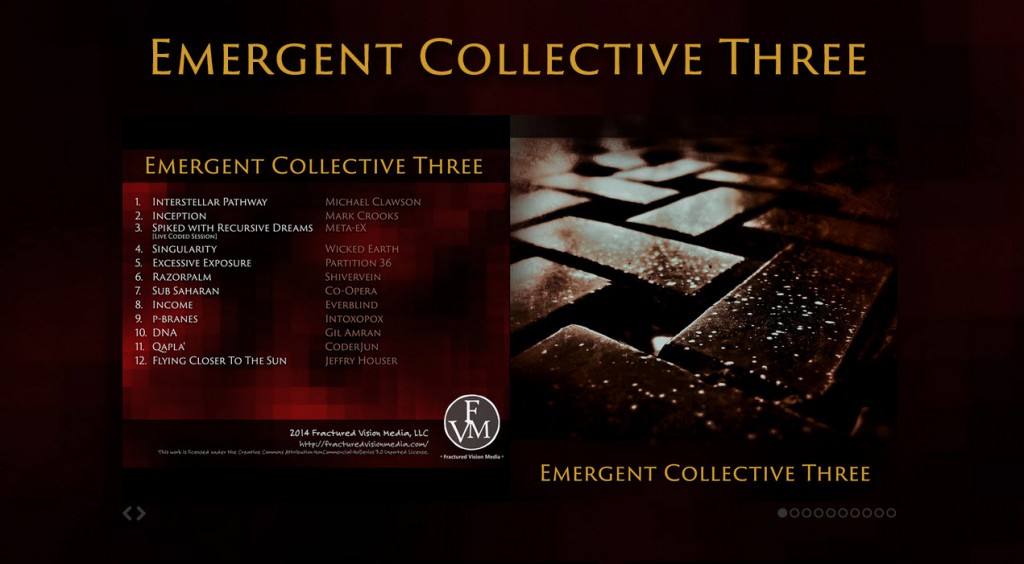 The third entry in the Emergent Collective community compilation CD series has now been released and can be accessed from either Fractured Vision Media or BandCamp. As with previous collections – this release can be had at no charge as an effort to celebrate the creativity and expansive artistry of our community. The entire compilation is available as a free CD-Audio image download or as an archive of digital files. Included are cover and tray art, as well as a booklet which showcases the artists involved in this compilation.
I originally wanted to be a lot more hands-off with this release. In terms of audio contributions – I only have contributed one track. With EC2, I wanted to have an introduction and exit track to round the disc out – and I took care of both of these items. I didn't want to do any of the artwork for this release either and was hoping someone from the community would come forward. This never happened… so I decided to just take care of it. EC1 and EC2 were a conglomeration of art styles from various contributors – so EC3 is quite different in this regard. I'm actually quite happy with the results – it feels very cohesive to me.
While working on the layout, design, and other aspects of this collection; I've been sharing progress on Behance through various WIPs. The final CD artwork has also been published as a Behance project. In going through this whole process… I've received a better appreciation for this service and have been able to fit it into my general workflow in other projects as well.
For EC1 (2010); the booklet display mechanism was pure Flash Player. InDesign has always had this really neat method for exporting a publication that looked and behaved like a little book. When I did the same for EC2 (2013)… I choose to also have a JavaScript fallback that was a pain to set up and worked hardly anywhere. The booklet for EC3 is presented through the SlideJS library. Spreads were exported from InDesign and laid out as per this jQuery plugin. In 2014 – this new solution works wonderfully… though without some of the flare and while missing a certain feel that the Flash Player export provides – it excels in simplicity and can be viewed upon nearly all screens.
A new aspect to this release is a set of contributor interviews which are being made available in the days following this release. The interview is something I've asked contributors to participate in only if they want to – so don't expect one from everybody. Check back tomorrow to read one of these new interviews from community contributors!
One other note: This will be the final Emergent Collective series release. Three is a good number to end with – and somewhat represents a community arc from 2010 to 2014. A lot has changed in that time and it is time for me to let this go. I deeply appreciate all of the contributors over these past years. You have all given something of yourselves to the world in a unified way – I am proud of what we've created and hope you all feel the same way.