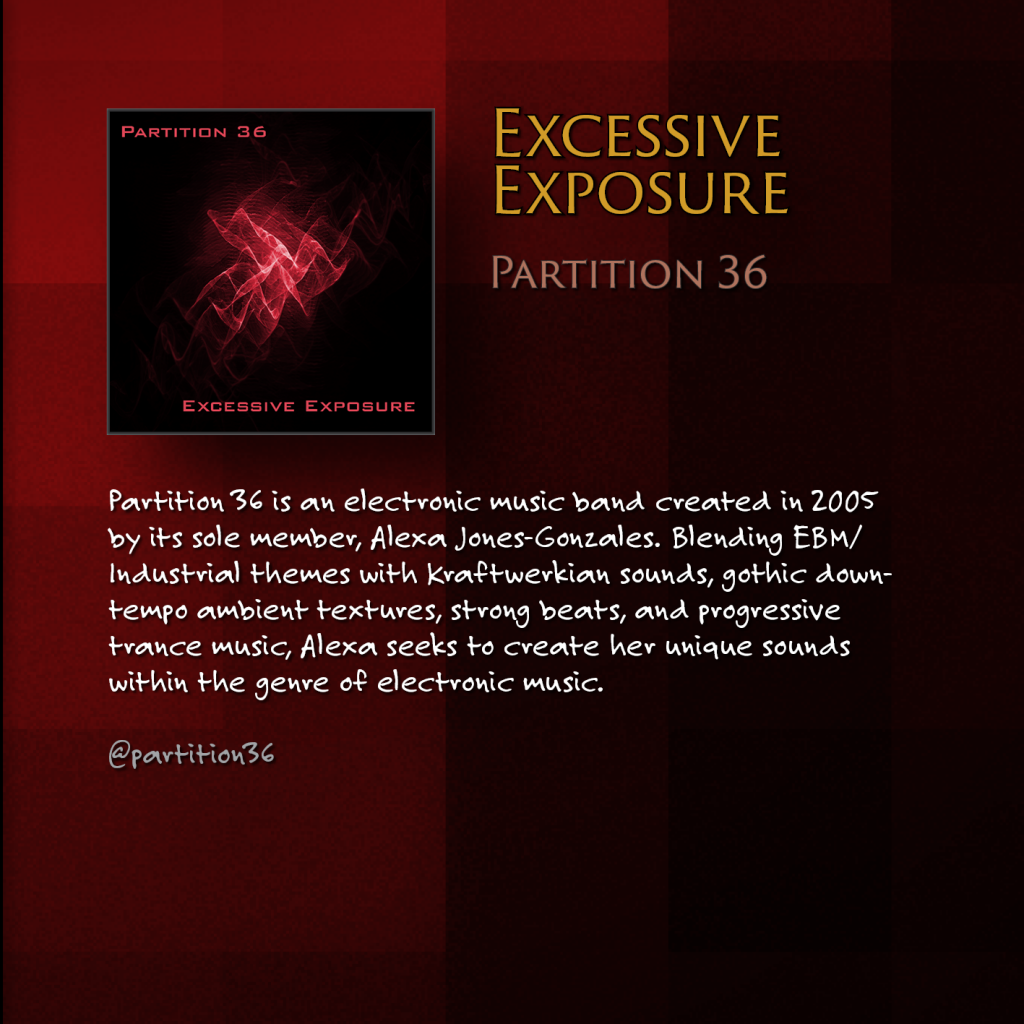 Please start by telling us your name, the name of your project (if different), and any other contributors that make up the project as a whole.
My name is Alexa Jones-Gonzales, and I am the founder and sole member of Partition 36.
What is the history of your particular aural endeavors? How did you get started working in this area?
It all sort of happened by accident back in 1999, which was my sophomore year of high school. After dinner one night I went downstairs to my computer, opened up a MIDI editor I had, and just started laying down notes. Pretty soon I noticed that what I had done sounded pretty cool, so I just kept adding to it until I had finished my first song. That's when I figured, "Hey, if I could do this once, I bet I could do it again." That's when it all started.
Tell us about your track for EC3. What is the creative process like for you?
It's always an experiment for me. Every time I start a new song, I usually have a basic idea of what I want to try: "I think I'll try for another industrial song", "Hmm, I haven't made any trance lately", "What if I wrote a song that got progressively more glitchy as time goes on until it melts into a sea of noise?" Using my idea I start by building a basic 8 or 16 measure block, then start expanding from there.
For "Excessive Exposure", I knew I wanted to do another song in by own style of Industrial music, with a thick, distorted saw lead for a melody. For inspiration I listened to a lot of Rotersand (especially their War on Error album), Angelspit, and KMFDM. The vocal samples weren't added until it was over halfway finished.
What sort of technologies and creative solutions do you enjoy working with? What does your primary work involve?
I retired from programming about a year ago, but I still have a small number of projects of my own. Whenever I have a problem to tackle or an idea to experiment with, I use either Python, C# with Mono and GTK#, or Common Lisp. They're beautiful languages to work in. Especially Lisp. The way you can interface with an SQL database is simply magical.
When it comes to music, I used to use Cakewalk Sonar exclusively until just recently. Now I mainly use Renoise since I'm more comfortable with a tracker-style interface, and reserve Sonar for work dealing with multi-track WAV editing and mastering. I have a huge collection of VST instruments and effects that I use, as well as some hardware synths.
The Emergent Collective series was established to highlight people in the community who work in creative technologies and also produce music (not that these efforts are so dissimilar). How did you get involved in this Emergent Collective compilation?
I actually knew Joseph through work. Somewhere along the line he found out I wrote music. I don't really remember how it went from there, though.
Is there anything else you'd like to share with our readers? Projects you are working on or future appearances?
I just released a new album called Waveforms on April 25th, which you can check out on my website. I'm also (already, heh) working on a new album or EP. One idea I've had for it is to use emulations of older synthesizer technologies, such as the classic SID chip and Yamaha YM2151, in combination with modern effects and DAWs.
I've also been collaborating with a fellow musician and friend on a project we call Treefungus. It focuses on experimental electronic music with elements of IDM and glitch. We just finished our first album, Transmissions 495, which I highly recommend checking out.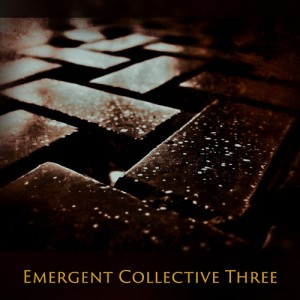 Listen to Partition 36 and others on Emergent Collective Three.