This morning at 360|Stack (formerly 360|Flex) in Denver, CO; it was announced that Apache Flex 4.10 has been released and is available for download. I'd suggesting using the installer linked through the image, below: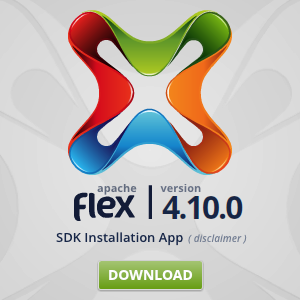 You can read the official announcement if desired. Here are some highlights:
Support for latest versions of Flash Player and AIR runtimes.
The Apache Flex SDK Installer now allows developers to select various combinations of the Flex SDK, Flash Player and AIR runtimes.
Improved support for older Flash Player versions.
Added over 15 new Spark components matching or replacing their mx counterparts.
"Out of the box" support for Advanced Telemetry allowing developers to easily profile their application and improve performance using Adobe Scout.
Better localization for multiple languages. Flex 4.10.0 is better now when trying to make application for multiple countries and languages.
Better international support for dates in formatters, validators, and the DateField and DateChooser components.
Better for developer productivity – less Run Time Errors (RTEs) and workarounds required in 4.10.0
480 dpi mobile resolution/skin support means that Flex SDK users can now target high resolution devices such as iOS Retina, etc.