There arn't the normal set of unconferences this year as normally found at MAX; FITC, 360, and others are pretty well absent from the community pavilion this time around. The good news is that thee is a new community based effort this year: the Show and Tell Theater! Here, people from Adobe and the community can share some cool projects they are working on in a lounge setting on the Adobe MAX Community Pavilion floor. The Show and Tell Theater is located within Community Central.
Schedule is up on the Adobe MAX blog.
Am I participating in this? Yes, I am: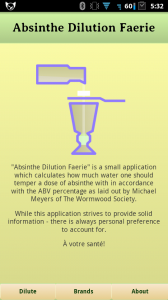 Edge Code, PhoneGap Build, and lots of Absinthe!
We'll be having at look at the Absinthe Dilution Faerie mobile app and how it was created with Adobe Creative Cloud tooling and services. You might even learn a thing of two about Absinthe…
Wednesday, May 8th 2013 2:40 PM in the Community Pavilion!
---
I'm also speaking on Edge Animate! Be sure and register for my session… there is still time but it is FILLING UP FAST!
BTW: Very possible I'll be doing a book giveaway as well…
Doing an #EdgeAnimate book givaway at my #AdobeMAX session! Register and join us…bit.ly/Vyu7ws instagram.com/p/Y0ybmSpAjM/

— Joseph Labrecque (@JosephLabrecque) May 2, 2013