Two new major Flash Platform releases have occurred: a new version of the Flash Builder development tool and a brand new product: Adobe Scout! This is part of the larger Adobe Game Developer Tools initiative – part of the Creative Cloud.
Flash Builder 4.7
After two beta releases on Adobe Labs, Flash Builder 4.7 has now been released!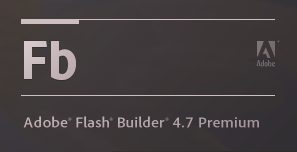 This release introduces new development features and enhancements to Flash Builder and provides support for the new Apache Flex SDK and the new ActionScript Compiler 2.0.
So what are the new features in this version of Flash Builder?
Flash Builder is now a 64-bit application
Support for the Apache Flex 4.8 SDK
Support for the Adobe Scout 1.0 product
New ASC 2.0 compiler support for ActionScript Projects
Support for creating and managing ActionScript Workers
Configuring multiple build targets for multi-screen projects
Support for customizing ADT and ADL parameters
Support for creating ActionScript Library Projects
Real time error highlighting using the ASC 2.0 compiler
Enhanced Developer Productivity Features including new Quick Assists
Advanced support for iOS deploy/test/debug/sim
Note that Design View, as previously indicated, no longer exists in Flash Builder 4.7. If Design View is desired, you will probably want to use Flash Builder 4.6. Note that both versions can be installed in parallel!
Adobe Scout 1.0
Some of you may be confused about the name… "what is Scout?"… well, Scout is the 1.0 product name of the former Project 'Monocle'. It's out now, as part of the Creative Cloud Game Developer Tools. Not only that, but much like Edge Animate – the full version of Scout is FREE for a limited time. After Scout transitions to a paid offering, it will still be available for free with advanced telemetry features disabled.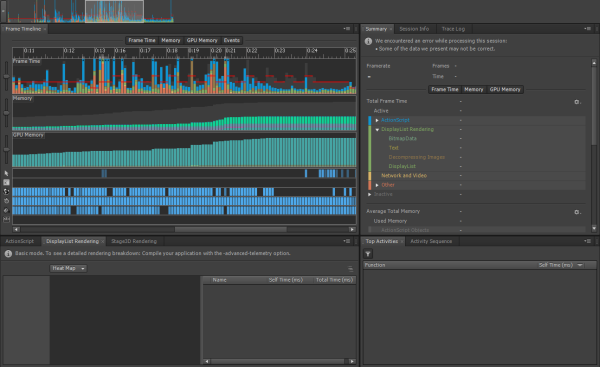 Adobe Scout is the next-­generation profiler for Flash content running on both the desktop and on mobile devices. It gives you insight into the behavior of your Flash content that simply wasn't possible in the past.
Scout relies on the new telemetry feature, which was introduced in Flash Player 11.4 and AIR 3.4. This feature gathers detailed information about the internals of the Flash runtime, as well as the ActionScript that it executes, and sends it all to Scout. Scout presents this data clearly, concisely, and graphically, so that you can quickly diagnose performance problems with your content.
To get detailed telemetry data to appear, a project must be compiled in such a way to enable this feature. This can be easily done with Flash Builder 4.7, or through other, less-supported means. Even without advanced telemetry enabled, there is still a good deal of information which can be gathered through the use of Scout.