Certain factions within Adobe seem to think that HTML & Friends can do 80% of what Flash Player can do on the web today 1. That's fine. It may be true- things have certainly progressed in a very positive way with web standards over the past few years, thank goodness!
But what of that other 20%? That's a big chunk of stuff where Flash Player can really shine. That's the sort of stuff I do with Flash. Not simple animations… not basic interactions… the stuff that just shouldn't be possible over the web today… and what drives the web forward tomorrow.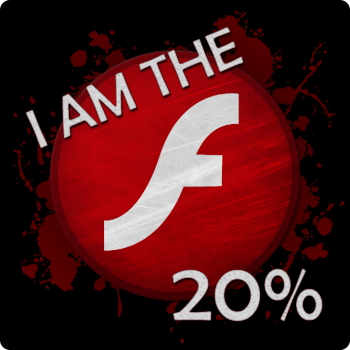 This is where Flash shines.
This is where Flash Player fits into my workflow.
I am the 20%. 2
Do killer stuff with Adobe Flash Platform technologies? Well then, so are you! Take and use this badge on your website, blog, avatar, signature, whatever:
Download: 350×350 BLACK, 350×350, 250×250, 150×150, PSD
---
1 It isn't the fact that HTML & Friends can do a lot of what Flash Player has traditionally done for the web which irritates me. What I find frustrating in conversations like this is when people begin aggressively undermining the balance and opportunity available to us when using both sets of technologies together in an effort to minimize and ghettoize Flash Player and Flash technologies.
2 Yes, an obvious play on the whole Occupy Movement. This whole post is mostly tongue-in-cheek, though I am quite serious about the un-necessary and antagonistic undermining of Flash Player by forces within Adobe, itself.