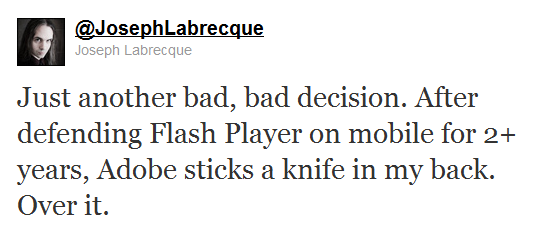 It's been an uphill battle since "Thoughts on Flash" and this year things were finally leveling off. I was getting buy-in from important pockets of my organization and now Adobe's message has utterly annihilated all the work I've done putting mobile Flash in a positive light. I'm not wasting any more time convincing people if Adobe itself isn't standing behind the technology.
We will no longer continue to develop Flash Player in the browser to work with new mobile device configurations (chipset, browser, OS version, etc.) following the upcoming release of Flash Player 11.1 for Android and BlackBerry PlayBook.
Now, instead of saying "Sure! We can do that in Flash!" – I'll have to say "Well, HTML cannot do what you want, sorry… maybe we can just take expectations for this web app down a few notches?" Really, really sad state of affairs – especially when considering that mobile Flash Player works really well on the devices I use regularly.
I've never targeted mobile Flash Player for application development – have always done desktop Flash Player and AIR desktop or AIR mobile. However, being able to reassure clients that their desktop web project was accessible on mobile phones and tablets over certain platforms was often enough to convince them to go with Flash Player for certain advanced website functionality. Personally, I LOVE being able to view browser-based Flash content on my mobile devices.
Most all of my books, videos, and whatnot over the past year or so have revolved around AIR and mobile… so while it definitely does excite me to think that more resources can be placed into furthering AIR on mobile, as a user of mobile Flash and a strong advocate of mobile Flash across Android, QNX, and beyond… this decision absolutely weakens the perception people have for the rest of the platform.
The way in which Adobe just dropped the news on loyal customers after years of gathering pretty strong support from the Open Screen Project and other partners is probably the worst part in all of this. I've written a lot on mobile and Flash on this weblog. I've written how Steve Jobs is wrong, how Flash on mobile works well, et cetera… I stand by my previous statements.
I love what Adobe is doing with Flash Player 11 and AIR 3. I have 2 eBooks scheduled for publication by O'Reilly next week on both these topics. I'm also doing work with Adobe Edge and various elements of the "open web stack" – so I get that it's important to support all of these solutions… it just feels so much like an ill-informed blood-sacrifice to dismiss mobile Flash Player in this manner. I think Peter Elst put it best with his analogy of removing a limb. Seems very unnecessary and Adobe has done great harm to many core supporters in the community and with outside perceptions.
I'm really floored by this decision. I hope I am wrong in my analysis. Thibault Imbert and Lee Brimelow seem to think that this is a good move. They are the ones that know for sure… or at least they are better informed than I…
It'll be interesting to see how this plays out.
---
Some additional articles on the subject (both positive and negative):
Flash to Focus on PC Browsing and Mobile Apps; Adobe to More Aggressively Contribute to HTML5
Flash to Focus on Apps for Mobile
Et tu, Adobe? Flash Player homicide
Flash Player Mobile, a Post Mortem.
Adobe abandons mobile Flash development
Without mobile, Adobe Flash is irrelevant
Adobe's November 9th Case Study in Message Failure
Clarifications on Flash Player for Mobile Browsers, the Flash Platform, and the Future of Flash
My Thoughts on Flash and HTML (as Expressed in an Email to "Tech News Today")