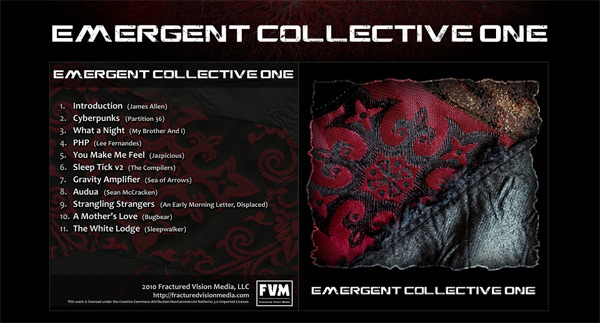 Formally known as the "community compilation CD project", Emergent Collective One is now available for download. As detailed in the original call for submissions, this is a community effort and is quite free for those who wish to acquire a copy. Released under a Creative Commons Attribution-NonCommercial-NoDerivs 3.0 Unported license; you may download, distribute, and make as many copies of these materials as you like, so long as you perform no modifications and retain attribution to the artists involved.
A few extra notes…
Something you'll notice immediately when visiting the website, is that you can view the entire booklet online as an interactive SWF. I did all the layout for the PDF version of the booklet using Adobe InDesign CS5 and it was quite simple to perform an additional export to Flash like this. Pull or click the upper corners to flip through the booklet.
I recommend burning a copy of the release to CDR. If you've never had to burn a CDDA disc image before, they are distributed as a set of files (primarily BIN/CUE) which retains all track data, CD-TEXT, ISRC codes and so forth. Lots of applications can be used to burn this to CDR. I recommend ImgBurn for Windows users.
You can download a collection of 320kbps MP3 files as well as the CDDA image.  The MP3 files heard through the web player are only 128kbps…
The iWebTunes web player is based on the Open Source Media Framework and was authored by Lee Fernandes (also a contributor).
Printable CD cover and tray inlay artwork is included in each download as high resolution TIF.
The cover image is adapted from a piece of scrap-art assembled by my wife, Leslie who is also involved in the wide community of Joomla!/PHP.
The generative thread art contained in the booklet was created using the HYPE Framework which is just so much fun to play with.
I cannot thank our contributors enough.  Without your submissions we would have nothing.  Now that we have a finished collection on hand, I really cannot see how any one of these tracks could *not* be included. Awesome work, all around. I am thrilled with what has emerged!
Lastly, thanks to everyone who supported this effort – please continue to spread the word and support your fellow community members!