Happy to make known the fact that my forthcoming book with Packt has been officially announced: Learning Adobe Edge!
My editor and I actually began talking about this book while I was still in the process of writing Flash Development for Android Cookbook. This was right after the "EDGE Prototype" was shown at the Adobe MAX 2010 conference. I thought it was an interesting concept, at the time, but wasn't personally hyped up around it at all. It was simply a conceptual prototype – not a real product… and I didn't see an immediate need for a tool like that anyhow.
How things change over the span of a year! Since MAX 2010, I've been using early builds of the software and have honestly been so impressed with the team behind Edge and what they've been able to accomplish in such a short amount of time. It's really quite amazing what can be done with HTML, CSS, and JavaScript if you have the right tooling. With each new build of Edge released on Adobe Labs, we gain more power through the application and the runtime behind it – all of this atop a constantly improving user experience. I'm also thrilled that the product that is so fun to use!
Adobe Edge is a solid application – I'm half way through what is turning out to be a solid book. It's my hope that readers agree on both points.
The book will be out this Summer – in the meantime, we've come up with a small quickstart guide book (~100pp) which focuses on the Adobe Edge Preview and that should become available in the next couple of weeks!
(Special thanks to Christer Kaitila, author of the Adobe Flash 11 Stage3D (Molehill) Game Programming Beginner's Guide, for taking some time to tech review the quickstart guide.)
---
Create engaging motion and rich interactivity with Adobe Edge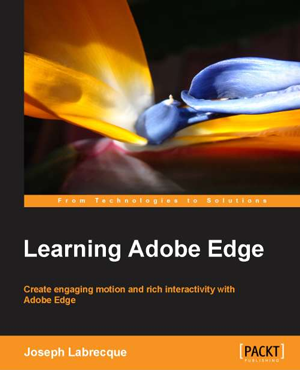 Author: Joseph Labrecque
Publisher: Packt Publishing (~July 2012)
ISBN-10: 1849692424
ISBN-13: 978-1-84969-242-7
Pages: ~300
Learning Adobe Edge will detail how to use this professional authoring software to create highly engaging content which targets HTML5, CSS, and JavaScript. Content created in Adobe Edge does not rely on a plugin – so it can be run within any standard browser– even on mobile.
With the advent of HTML5 and CSS3, web designers can now create sophisticated animations without the need of additional plugins such as Flash. However, there hasn't been an easy way for creating animations with web standards until now. This book enables even those with little knowledge of HTML or programming web content to freely create a variety of rich compositions involving motion and interactivity.