Looking at getting into gaming using Flash, Unity, or HTML5? Want to see some great examples of gaming using these and other tech? Want full source code for all these examples to learn from? If any of this interests you – you'll be happy to have a look at the 1400+ games developed during Ludum Dare #24 this past weekend.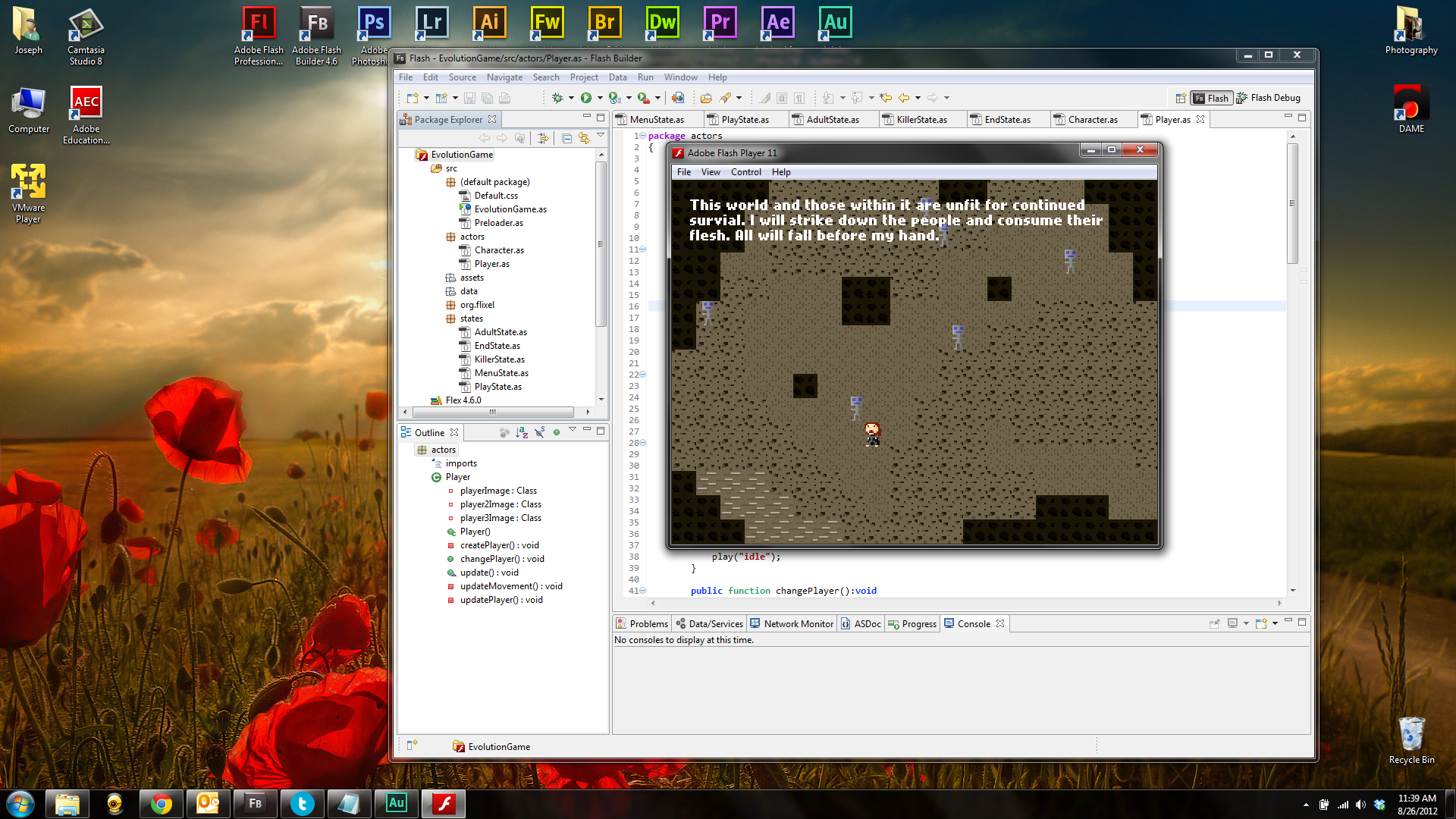 Ludum Dare (Latin: "to give a game") is a regular accelerated game development event which takes place over 48 hours. A theme is voted on in the days following up to the event and the chosen theme is revealed at the event start time. Participants basically are going into these 48 hours with nothing prepared since the theme is secret… and all assets and code (aside from external libraries and such) must be created during those 48 hours. Anything that isn't must be declared beforehand – making for a pretty intense experience for the participants.
This was my first Ludum Dare (although I have contemplated joining previous ones) and I really enjoyed the experience. Ever since I had the pleasure of tech editing Christer Kaitila's "The Game Jam Survival Guide", I've been wanting to give something like this a shot.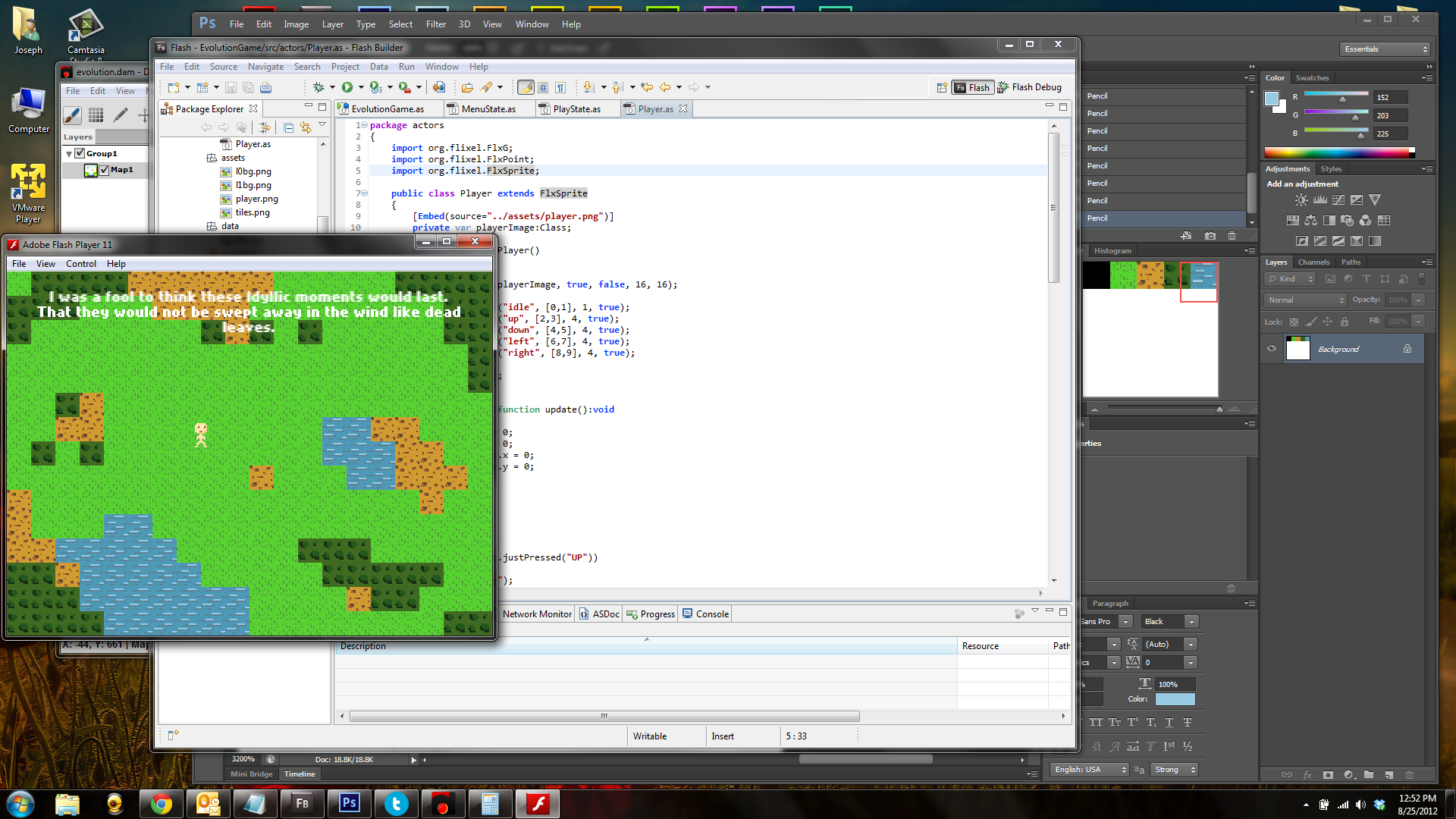 My motivation for this round was to force familiarity with a specific ActionScript gaming engine. I wasn't sure what I would use until the theme was announced and settled on the popular Flixel engine. I'm happy that I did – as this engine really makes everything quite simple when throwing a game together. Initially I was put off by the theme ("Evolution"), having absolutely zero ideas on where to begin, but that all worked out as I put time into developing the concept. I learned a ton about Flixel – which was my main goal. Picked up a lot of other new experiences and had fun doing it!
Some of the final game is a bit rough… I know there are some spelling errors, for instance. Some of the game logic could be fixed and there is certainly room for cleaning up the code. here could also be a bit of challenge added to the game as right now it is COMPLETELY story-driven in a minimalistic fashion. The soundtrack could also be cleaned up as well as the sprites.
I'm really happy with the way it all came together.
Tools used:
Adobe Flash Builder 4.6
Adobe Flash Professional CS6
Flixel
DAME
FL Studio
Native Instruments Komplete 7
Adobe Photoshop Extended CS6
Adobe Media Encoder CS6
Adobe Audition CS6
Had a great time doing this even with limitations imposed by family, clients, publishers, and the rest. I'd encourage anyone to give it a go – even if they don't think 48 hours is enough time.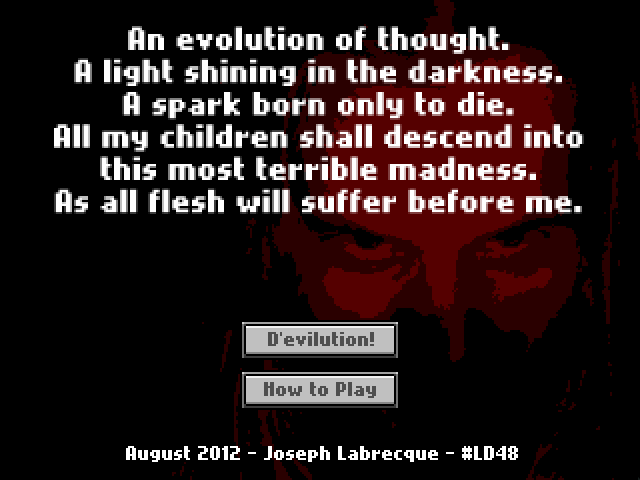 Check out my game – D'evilution!