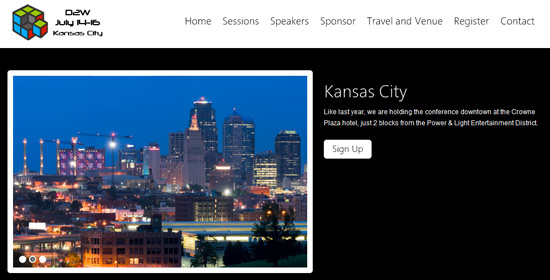 D2W is the designer/developer/workflow conference held in Kansas City, MO. This year, it is taking place at the Crowne Plaza hotel on Friday July 15th and Saturday the 16th, following a preconferece workshop day.
What attracted me to this event was its unique focus on workflow across design and development areas. I am not aware of any other conference that claims such a focus, and considering workflow is something we designers and developers deal with every day (whether we realize it or not), happens to be an excellent opportunity to really concentrate on the issues involved in this work. Bringing both designers and developers (and hybrids!) together to talk about workflow is such a compelling idea!
Speaking of which; have you had a look at the speakers page at all? There is a real stand-out group of people speaking at this event – quite a variety too! Session topics involve technologies such as Flash, Flex, HTML, JavaScript, jQuery, CSS, a variety of design tools, IDEs… and all of this across desktop and mobile. In fact, along with the design and develop tracks from last year, Dee has added a specific mobile track to the event. Check out the session lineup for particulars.
I'll be presenting a session called Adapting Expectations to Fit a Mobile Workflow at 10:55 on day one as part of the mobile track. I'm scheduled at the same time as Michelle Yaiser and David Ortinau… would have liked to hear either of them speak! Ah, well…
Sounds like a great conference, right? Ping me on Twitter for a discount code!
---
Here is my current lineup. It will change, of course!
Day 1 – July 15
Day 2 – July 16
8:45 | Doug Winnie – HTMLArrraagh!
12:15 | Lunch
…and I'll miss the last session due to having to catch my plane back to Denver :(
Still reading? Hope to see many of you in Kansas City!