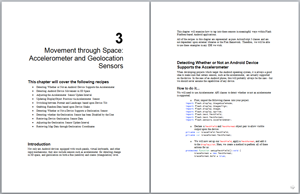 Yeah- I hit a pretty big milestone this week with the draft for my book on Android and Flash Platform development (the book is still untitled). I've submitted 5 chapters and am mid-way through a 6th. This actually places me about a month and a half ahead of schedule, which is pretty darn good. 180 pages!!!
Some Thoughts
The process so far has been a lot like writing a bunch of small articles. I've handled it in a similar way to writing an album – one track/chapter at a time. Things are definitely overwhelming if you think about the entire work as a whole. If I didn't segment my work like this, I'd probably stress about it so much that I'd get nothing done. It is often the half way point on a large project like this when you realize just how much things are actually coming together. Quite gratifying.
There are negatives to this entire process as well; I haven't had a lot of free time for other projects, have had to pass up on some additional development opportunities through Fractured Vision Media, and it's incredibly hard to balance family life along with everything I do. I'm fairly certain the positives will win out when this is all over though!
Dropbox and Word
I've been using the excellent Dropbox service for revisions, automated backups, and simply sharing drafts across my studio machine and laptops. It has made document management absolutely painless and I highly recommend it to anyone involved in such a project. It has provided me with convenience and peace of mind!
On the dark side of things… I've been using Microsoft Word for all of my word processing and formatting. Enough said.
Revisions
After submitting the first couple of chapters, I had quite a few revisions to do dealing with formatting and even the structure of a lot of my recipes. It has turned out well though; as the recipes in their current form are quite simple to follow along with. I've actually used some of them for reference in my own development work!
While I've come quite far; I'm sure there will be many more revisions to come. These are just drafts and I have additional feedback from technical reviewers to work through. Really pleased with the foundation thus far.
Outlook
Like I mentioned above; things are looking good! My editor is pleased with the quality and timeliness of the draft chapters and we are in the process of defining a title, generating promotional copy, gathering technical reviewers, and should be announcing everything on the Packt Publishing site in the next week or two!
I'll post another update once this has occurred so you can all pre-order ;)