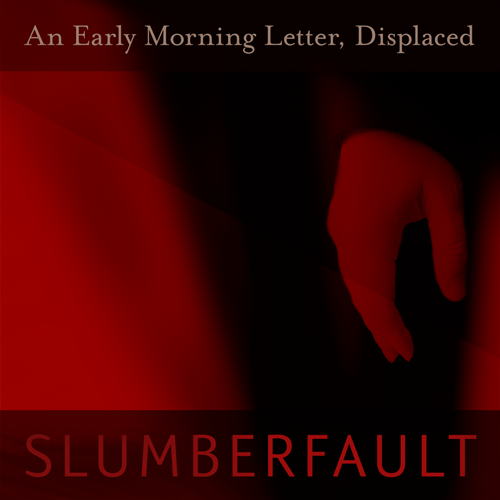 Announcing today's release of the new studio album from An Early Morning Letter, Displaced… SLUMBERFAULT!
After years of fitful sleep… a return.

A continuation and evolution of the styles and moods of times past. Brooding, pacing, and at times… overpowering in raw expression.
SLUMBERFAULT spans twelve tracks composed and recorded over the past five years. I've been very, very busy with other work and this project kept getting pushed aside. The Shivervein side-project (conceived in 2012) was an attempt to get around all of this… but wasn't a good solution – as I still had no time no matter what the project was called. Every year I'd look back on what I'd done but the recordings would always stand out as just completely unfulfilled. I needed to do something about this and committed to finally release a new album of work… and that day has now come to pass!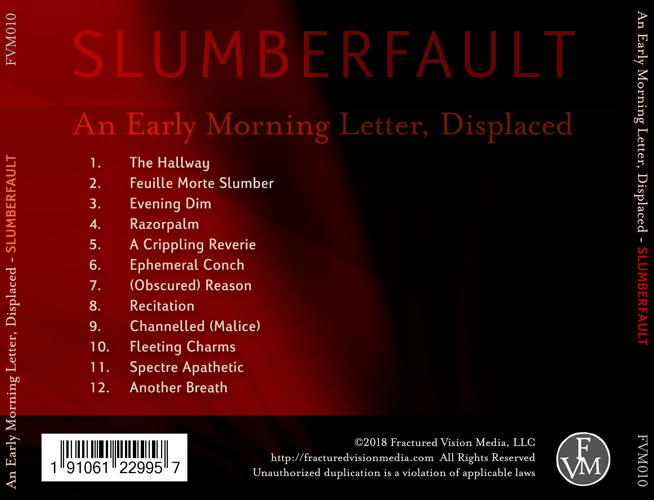 This is the 10th release from Fractured Vision Media and the 6th album from An Early Morning Letter, Displaced.
Tracks are as follows:
The Hallway
Feuille Morte Slumber
Evening Dim
Razorpalm
A Crippling Reverie
Ephemeral Conch
(Obscured) Reason
Recitation
Channelled (Malice)
Fleeting Charms
Spectre Apathetic
Another Breath
The entire album (or individual tracks) can be acquired from all expected online stores that deal in music distribution including… Amazon Music, Bandcamp, Apple iTunes, Google Music, and Spotify.
Listen below…