With Adobe MAX 2016 concluded, I've pulled together a number of resources from my own sessions on Animate CC and the SWF file format and also some important information from Adobe around Flash Player and AIR.
I had a great time at MAX this year and it seems most everyone else did too. Great to be able to share Animate CC workflows with lab attendees, connect with the greater education and professional communities, and have fabulous conversations with new attendees as well!
Incidentally, Adobe MAX 2017 will be held October 16–20, 2017 at The Venetian in Las Vegas, Nevada!
Adobe Animate CC: Introduction to Animation and Interactivity
Adobe Animate CC is a professional tool used to create a diverse variety of project types including rich animations, compelling interactives, award-winning games, popular mobile apps, and more. Learn how to get started creating your own engaging animated and interactive content across multiple platforms using Animate CC in this lab.
I taught this lab each day of the conference and it was completely booked each time. Those on the wait list were able to come in and observe if they desired – though there were no more lab machines available for them to use. I hope those who were not able to get on a lab computer (or even those not present at MAX) will benefit from these resources.
The workbook, project files, and slides are below – please share!
Workbook
Adobe Animate CC: Introduction to Animation and Interactivity Workbook (81 page PDF)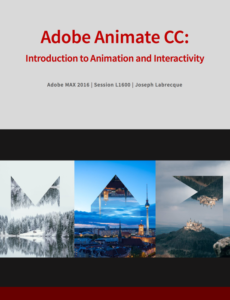 Asset Files
FLA and PNG files in a ZIP archive.
Slides
And… here are the (really short) intro slides:
Don't Fear the SWF (Adobe MAX Community Summit)
A quick overview of some of the cool stuff that is possible with the SWF file format that DOESN'T involve the F-word.
The day before MAX, I attended the Community Summit for Adobe Community Professionals and User Group Managers. We had the opportunity for a number of in-depth conversations with various Adobe project managers, Adobe community people, and one another.
Toward the end of the summit was a chance to talk about certain tips, techniques, or workflows with Adobe products that we wanted to share. I gave a talk on the SWF file format and some of the cools things you could do with it even if not targeting Flash Player.
Here is the Connect recording for the entire event – and below you will find slides.
(These are the revised slides that include additional NDA information I could not present that day.)
Don't Fear the SWF (Adobe MAX Live!)
I also provided a live demonstration based upon the Community Summit talk as part of the Live from Adobe MAX 2016 series. It was hosted by Michael Chaize from the MAX Live streaming booth on the Community Pavilion show floor.
Check out the recording below!
Thanks to Michael and Tricia for getting this together – it was a blast!
Flash Player and AIR – Updated Stats!!!
During the MAX sessions given by Animate CC product manager Ajay Shukla (recording here) gave an update on the Adobe Runtimes, Flash Player and AIR.
Clearly stating that Adobe is committed to these platforms – he also reinforced that the platform is doing "very well" despite historical difficulties. In fact, AIR application installs and unique mobile apps built with AIR have more than DOUBLED since MAX 2015.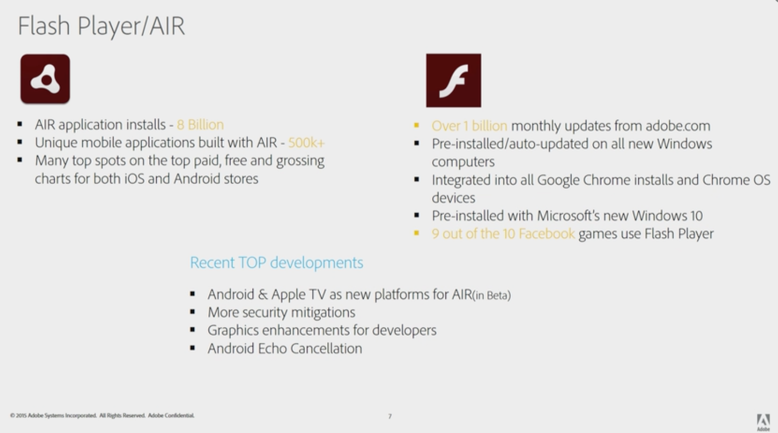 Very well, indeed!