Last year, I was able to contribute to a small paper along with Lauren Labrecque and Garret Warr titled "Absinthe: an Exploration of the Role of Mythology and Ritual in Market Revival" which looks at the spirit, absinthe, from a marketing angle with a brief overview of the history, ban, and revival. In terms of the paper itself, and the presentation of the findings, they truly did most of the work! As part of our research, we conducted interviews with a number of well-known American absinthe distillers.
This is a purely academic publication and was quite interesting to assist with. Hopefully as absinthe becomes more legitimized in the public sphere, papers and accompanying research like this will become even more common!
The paper was recently published by Springer as a chapter within the larger volume "Celebrating America's Pastimes: Baseball, Hot Dogs, Apple Pie and Marketing?" which contains the full proceedings of the 2015 Academy of Marketing Science (AMS) Annual Conference.
---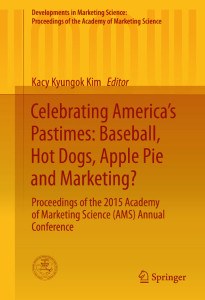 Absinthe, a once wildly popular spirit, was banned at the turn of the twentieth century as a consequence of its purported hallucinogenic effects. Now after nearly a century-long prohibition, recent de-restrictions in Europe and the Americas have allowed the opalescent green drink, nicknamed "the Green Fairy," to return to the marketplace. This research uses netnography and content analysis as tools to help understand the historic marketability and consumption of this product and to reveal current consumption behaviors.
Chapter Authors: Lauren I. Labrecque, Garret M. Warr, Joseph Labrecque
Publisher: Springer International Publishing (April, 2016)
ISBN-13: 978-3-319-26646-6
Pages: 325-328
Acquire at http://link.springer.com/chapter/10.1007%2F978-3-319-26647-3_67