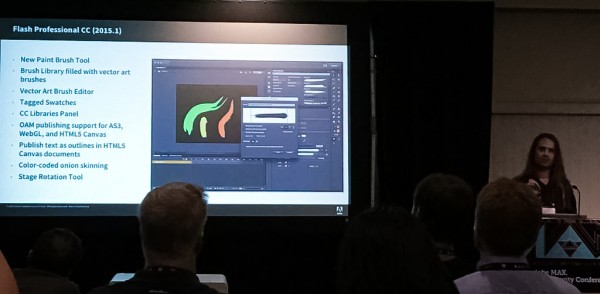 Had a really productive MAX this year with one session and a lab given twice – meaning that I presented across all three days of the conference. I was positive going into MAX about where Adobe is taking the application… but after talking with attendees and discussing the product with Adobe employees and community members I am absolutely convinced that the next year will be AMAZING for Flash Professional no matter what platforms you are targeting today.

The main drive of this post though, is to bring a bunch of resources together regarding my speaking experience at MAX this year, and around Flash Professional in general. So without further ado…
---
Slides for Giving Flash Professional Another Look:

You can also view the full recording of my session, Giving Flash Professional Another Look!
---
As promised to all of my lab attendees… the full, color PDF of the lab workbook: Unleashing the Creative Power of Flash Professional CC!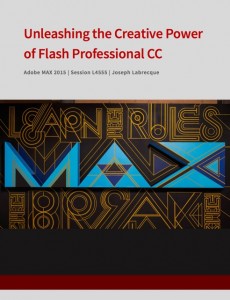 I want to thank you all so much – my Tuesday lab was a full session and the Wednesday lab was great fun. Thanks to all those who attended these labs!
---
All Adobe MAX 2015 Flash Professional Recordings:
[the 4 lab sessions, including Unleashing the Creative Power of Flash Professional CC, were not recorded, as is MAX standard practice.]