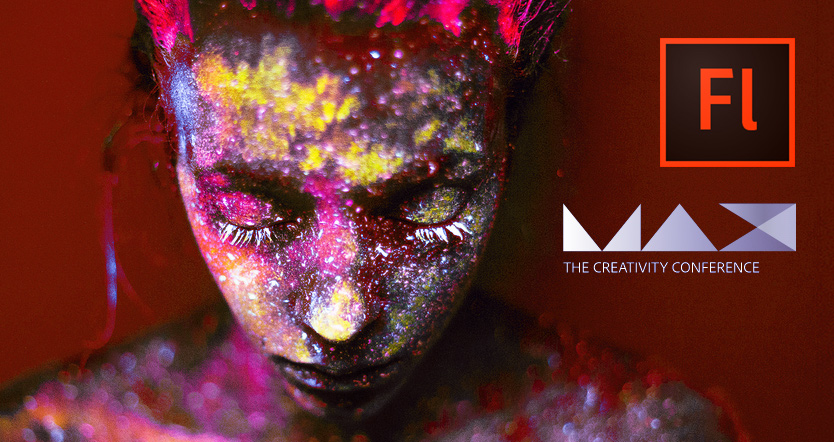 Adobe MAX October 3-7, 2015, Los Angeles, CA
Adobe has announced the initial set of speakers for MAX 2015 and I am happily involved with both a session and a lab! While I have spoken at a number of past MAX sessions, I have never done a lab before – so this is something I am very excited about.
So what are my sessions about? ADOBE FLASH PROFESSIONAL CC is what!

Last year I took a break from MAX… having been present at every MAX since 2008, I was okay with this. This year I return refreshed and energized – I'm pumped on Flash! The amount of enhancements in creative tooling and extended platform support in Flash Professional really has me positive around the tool and associated platforms. I have been saying this since late last year and 2015 continues to be a great year for Flash!
Have a look at all the MAX sessions for 2015… be sure to register for mine… and by all means – say hello :)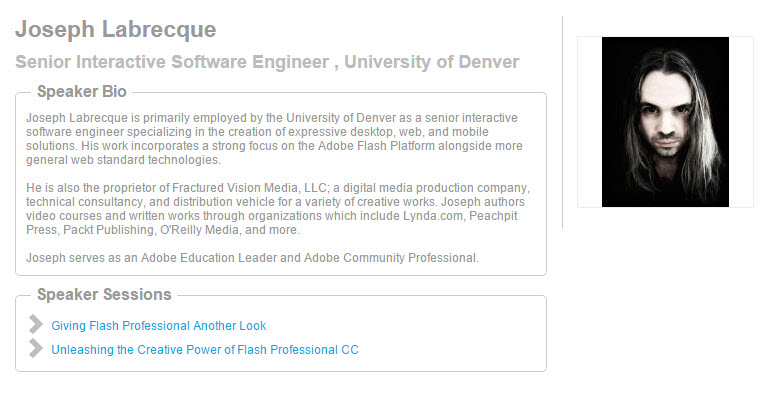 ---
S4556 – Giving Flash Professional Another Look
Joseph Labrecque – Senior Interactive Software Engineer, University of Denver
See how Flash Professional CC lets you create assets and animations for virtually any use case, device, browser or platform. Too often, users confuse the Flash Professional application with the Flash runtimes and believe they can target only certain browsers and devices with their content. Not so! Adobe has been enhancing the creative toolset within Flash Professional while building support for custom platforms. Get current with the modern, creative capabilities of this amazing tool.
This session will explore:
An overview of the latest features
Hidden techniques for creating assets and animations
How to easily apply your creativity across any screen
---
L4555 – Unleashing the Creative Power of Flash Professional CC
Joseph Labrecque – Senior Interactive Software Engineer, University of Denver
Need to get up to speed on the tooling in Flash Professional CC for your client and creative work? Maybe you need to target the web, iOS and Android devices, HD video and print. Great news: Flash Professional CC has been enhanced to expand upon the traditional Flash runtime targets and reach the native web through HTML5 Canvas and WebGL (and more) to help all types of use cases for desktop, mobile and beyond.
During this lab, you'll learn:
The new creative Flash Professional CC tooling
How that tooling fits in the workflow industry professionals have come to rely upon when creating assets and animation for television, games, the web and more
How to generate assets in Flash Professional and reuse them across a variety of creative projects and platforms