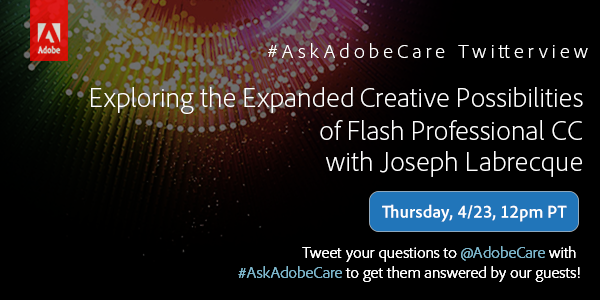 On Thursday, April the 23rd, at 12:00 Pacific Time… Adobe Care will be moderating a TwitterView which I will be hosting around Flash Professional CC. I encourage everyone to visit their announce post for full details and I hope you can make it!
Do you have questions about Flash? Unsure about all of the possibilities available to you with Flash Professional CC?

Tune in Thursday 4/23 for our #AskAdobeCare Twitterview where Adobe Community Professional, Joseph Labrecque, will be here to answer your questions!

Tweet your questions with #AskAdobeCare, and we will supply the answers. We will try our best to answer as many questions as we can during this 60-minute session, but we can't promise that all questions will be answered.
I'd like to highlight a couple of other sessions around Flash Professional CC that are coming up as well:
Please give them your support!