Before getting into Lightroom Mobile for Android, I want to take a few moments to examine some recent history around Adobe, Android, and most specifically Apple. This is going to sound like complete lunacy for many of you over the first few paragraphs – but stay with me… or skip ahead.
One more chance. Just want positive stuff around Lightroom? Skip my ranting.
---
Full-on Rant Time
Remember this completely unprecedented bundle of lies perpetuated by the Jobs back in 2010?


Flash and Flex developers the world over wrote lengthy rebuttals to this filthy rag and the fight for truth was on… but when going up against Apple, there is apparently really little that can be done. This entity holds quite a bit of influence and it doesn't matter what is a lie and what is the honest truth in the end – because Apple has a much louder voice than should really and truly be legally possible. Do you remember Adobe's response to this hate-filled diatribe?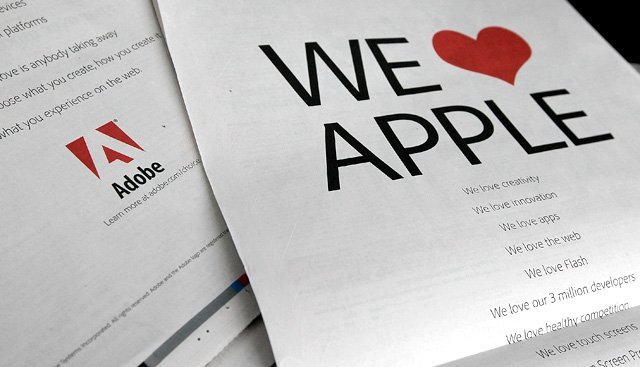 In retrospect… this one ad campaign really did set the stage for the next 4 years or so… for everything but Flash, of course.
Adobe decided they loved Apple so very much that they would go to any and every length to offer supplication to Jobs and his band of professional liars and corporate murderers. They would use Flash as a blood sacrifice and shift the entire engineering side of things in support of Apple's mobile OS over any other.
This would be at the expense of nearly everything else; Flash as a complete platform, Adobe desktop application integration, Flash Player on Android, Flash Player and AIR on Blackberry, Adobe Flex (and a zillion smaller projects like OSMF), the Open Screen Project, "Pronghorn", relationships with 3 MILLION Flash developers worldwide, the complete destruction of a once tight community program, astonishing amounts of major, major corporate monetary and personnel investment blown away with the wind, I could go on about this all day…
But I won't. Very few people care about it at this point. It's 2015 and life moves on. Flash Player and AIR have not died, despite the efforts of many. In fact – with quarterly updates to the runtimes and recent stats showing that 2.5 BILLION AIR applications have been installed over the past 1.5 years alone… the platform is doing quite fine regardless of whether public opinion and industry perception would like to think.
Remember what that liar Jobs said about Java…
"Java's not worth building in. Nobody uses Java anymore." -S.J. (2007)
---
Lightroom Mobile for Android
I've been very critical of Adobe's one-platform approach to it's mobile offerings over the past few years (see above). So critical that Adobe deserves kudos for not completely kicking me out of their education and community programs. (seriously- thanks for putting up with my incessant bitching about this)
Well, the time has come to stop complaining and give Adobe some positive commentary around what is happening with their Creative SDK and specifically Lightroom Mobile for Android.
After spending all weekend playing with Lightroom across my Windows 8.1 laptop and my Galaxy S4 – I can cheerfully state that Adobe is *finally* giving Android it's due and is beginning to provide the same level of software and services to ALL Creative Cloud professionals through both the Creative SDK and the 1st party applications which run on it.
The experience between the applications and devices is really quite slick!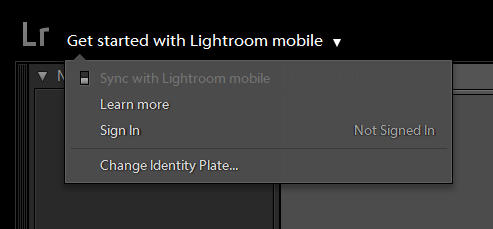 Lightroom 5 was not shy in notifying me that Lightroom Mobile was now available for Android.  Just click "Sign In" to get going.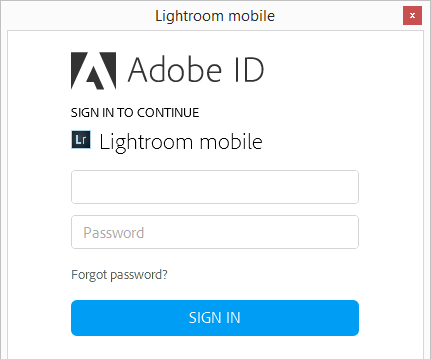 Syncing between the mobile and desktop versions is as simple as signing in to both applications using your Adobe ID. Once this is done, everything you shoot on mobile with automatically sync to desktop if that is your preference.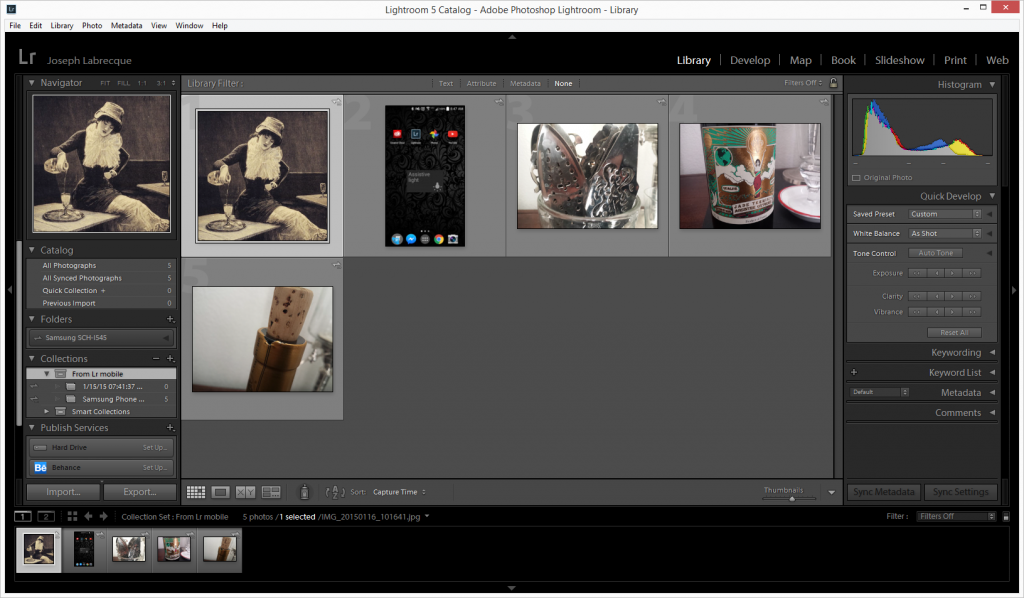 Anything you add to a collection through the Android application will sync down to your full Lightroom 5 installation. A pretty good start.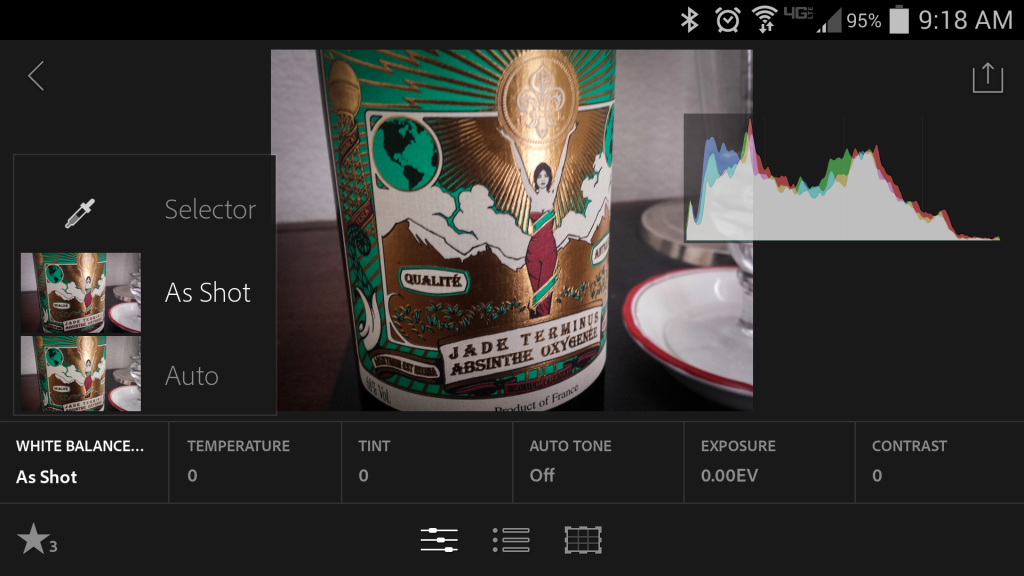 There are a bunch of nice controls within the Android version of Lightroom to get a lot of stuff done. I used a photo of my bottle of Terminus Oxygénée Absinthe Supérieure as a test.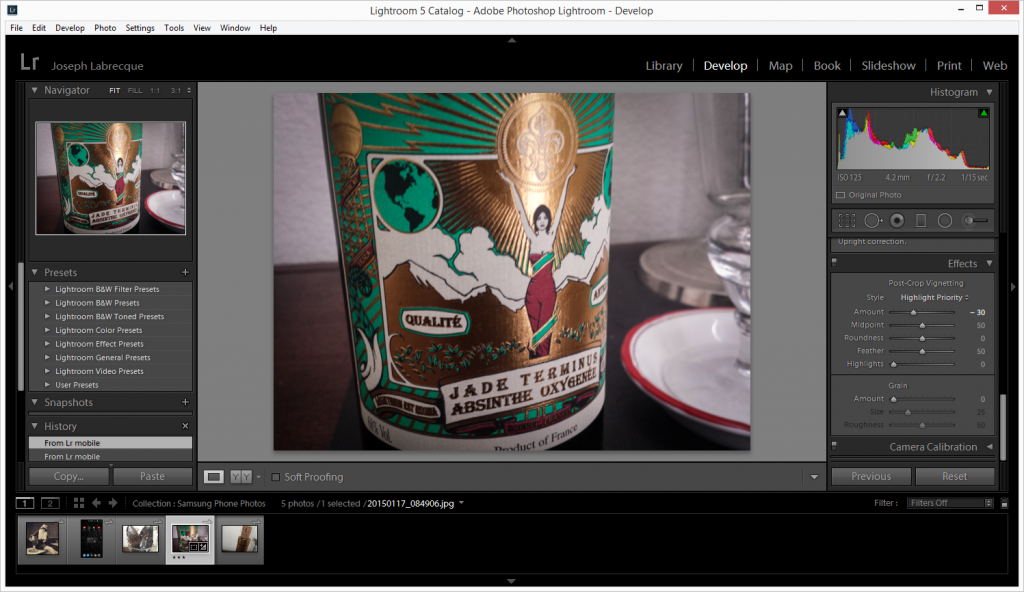 Once those adjustments are made on Android, the changes are absolutely reflected within the Windows version of Lightroom as well. If you pay attention, even the histogram is identical.
Splendid job, Adobe!
Despite my incredibly negative (but wholly justified) rant at the beginning of this review – Adobe has really done a tremendous job here and the Lightroom team should be commended for their work on Android. I certainly hope to see many of the other creative applications that Adobe has build for iOS to start making their way over to Android in the future. Please, support them in this effort!
Adobe's post about the Android version of Lightroom Mobile can be read here.
Creative SDK for Android is now available at https://creativesdk.adobe.com/
You can also access https://lightroom.adobe.com/ to vew collections shared between the mobile and desktop versions of Lightroom.