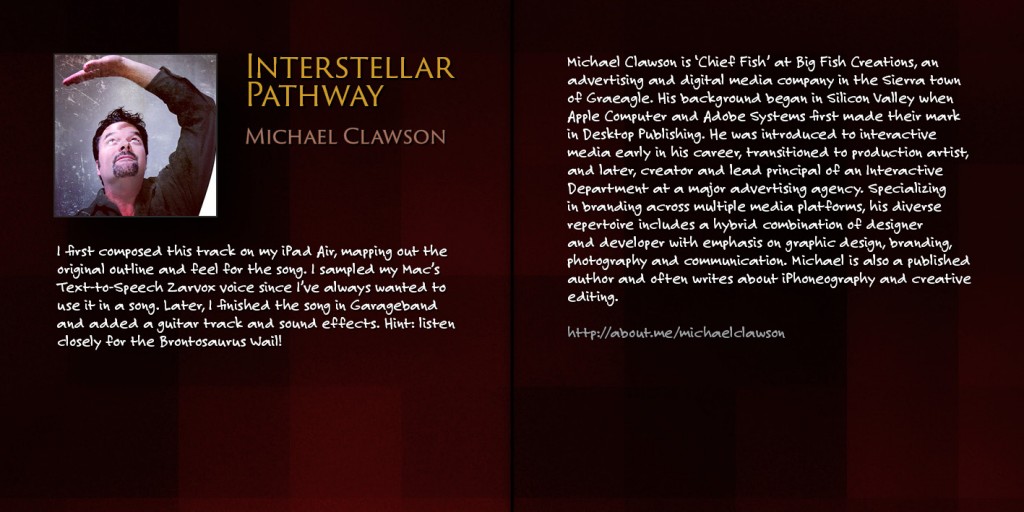 Please start by telling us your name, the name of your project (if different), and any other contributors that make up the project as a whole.
My name is Michael Clawson. I usually write music under that name at this time. If you consider a brontosaurus a contributor, well then, there you go.
What is the history of your particular aural endeavors? How did you get started working in this area?
My music history goes all the way back to my high school years when my Dad bought me my first electric guitar. It was a Les Paul silver sunburst, custom. My friend questioned my Dad's wisdom, because, as he put it, "Clawson, you suck as a guitarist." Well, yeah, I did, but in hindsight, that was the best thing my Dad could have done for me since I was able to grow into that fabulous instrument as my skills developed. I studied mostly progressive rock, formed a few bands with my younger brother, who is a killer drummer I might add. Later in college, I met a good friend of mine who was a wizard with computers. He was using an Amiga 1000 to control a rack of keyboards when I first auditioned for him. The sound was wonderful and full, and he was performing everything as a one-man band, literally. Long story short, he got me hooked on technology, specifically MIDI and sampling technology. We formed a club band and actually had great success playing 80s covers and our original compositions. I bought a MIDI synthesizer and began to record my own music with a Mac program named Vision by Opcode. Opcode was an early pioneer of merging digital audio with MIDI. They further upgraded their flagship program to support 2 tracks of Digital Audio. To get the audio into your Mac, you needed a Mac II and an expensive hardware add-on sound card. Being a college kid at the time, that option was way above my pay grade, so I spent the time creating MIDI songs on my Mac SE, and later in my friends studio where I had access to digital samplers. I created aural compositions for my sister, who was mastering in Modern Dance, filled with reverse guitars, keyboards and sound effects. It was a pleasure to explore new creative areas with experimental sounds and instrument combinations. As computer technology progressed, it was easier, and cheaper to record audio. Processing power increased, and I soon was layering multiple tracks of recorded audio and MIDI data in my own home studio. Today, this processing power is literally in my hands with programs like Garage Band for iPad, where I seem to be spending much of my creative time lately.
Tell us about your track for EC3. What is the creative process like for you?
I am a guitarist, so any opportunity I get to create an aural landscape for me to solo over, I'll take it. So, as a result, I typically find an inspirational keyboard patch or drum rhythm and start building melodies and parts of songs until I am inspired to take the idea further. I actually like to sing and write lyrics, and I'm often inspired by more poetic and philosophical approaches to my songs. Lately, my process has been to start song in Garage Band on my iPad and create the basic idea, then later take it into the desktop version and further expand and finalize the idea.
What sort of technologies and creative solutions do you enjoy working with? What does your primary work involve?
I am a complete 100% Apple fanboy, so it is safe to say anything Apple related interests me. I have collected many guitar effects processors over the year. largely from Roland, and I have several guitars to inspire me with new sound approaches. I can play a little keyboards, largely to sequence parts, but when I need to approach another instrument, I just strap on my Roland guitar synthesizer and start playing a flute, trumpet, or pipe organ, for example. Loops and arpeggio plug-ins are also a great place for me to start. Of course, I think the question was what do I do for a living? I am a designer and coder, a so called hybrid, and I own my own boutique advertising agency that keeps me busy most of the time. I also love anything Adobe, since their tools have really developed over the years, and have helped me solve creative challenges for my clients. I am also a photographer, and enjoy taking and editing photos with my iPhone.
The Emergent Collective series was established to highlight people in the community who work in creative technologies and also produce music (not that these efforts are so dissimilar). How did you get involved in this Emergent Collective compilation?
Well, Joseph, I have to come clean here and confess that I started following you on Twitter probably about 2 years ago. I follow a lot of Adobe people and musicians. You were in both categories, like me, so it made sense to see what you were doing (not stalking). I think it was around that time that you released the first Emergent Collective, which I immediately purchased, and was very impressed and inspired with its approach. I suppose the rest is history after you asked me to contribute for this album, and well, here I am now.
Is there anything else you'd like to share with our readers? Projects you are working on or future appearances?
I will continue to create since that is such a huge part of who I am. I'm currently writing a book on iPhoneography that I hope will be available by the end of the year.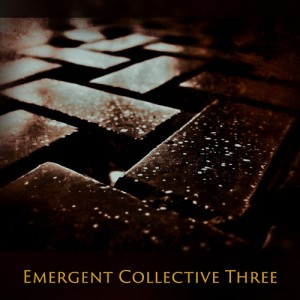 Listen to Michael Clawson and others on Emergent Collective Three.