Absinthe Antiques: A collection from la Belle Époque features pieces utilized in the preparation and serving of the famed spirit absinthe. These lovely antiques from the mid 1800s through the early 20th century evoke a time of beauty, art, new technologies and changing culture; the era known as France's la Belle Époque. Spoons, glasses, carafes, pitchers, saucers, art …Lovers of absinthe, and antiques in general, will enjoy the beauty of these elegant survivors of time.
When I first laid my hands up on S. B. MacDonald's Absinthe Antiques: A collection from la Belle Époque… I expected nice photographs… I expected a quick history of the spirit, absinthe, alongside a number of historical artifacts. What I didn't expect was to gain access to such a great number of photographs comprising the wide diversity of absinthe-related objects that is to be discovered in this work.
The photographs themselves are spectacular – many composed in what appears to be either natural ambient light or directed candlelight… quite suited to the subjects presented. These subjects – these absinthe antiques – range from glasses, spoons, fountains, pitchers, carafes, postcards, sugar tongs, period photographs… the list is comprehensive in scope and the book itself is a treasure for the absintheur.
Alongside each photograph is a description of the piece and some relation to its place in the history of the spirit. Want to know what "choking a parrot" means? This book will surely enlighten you!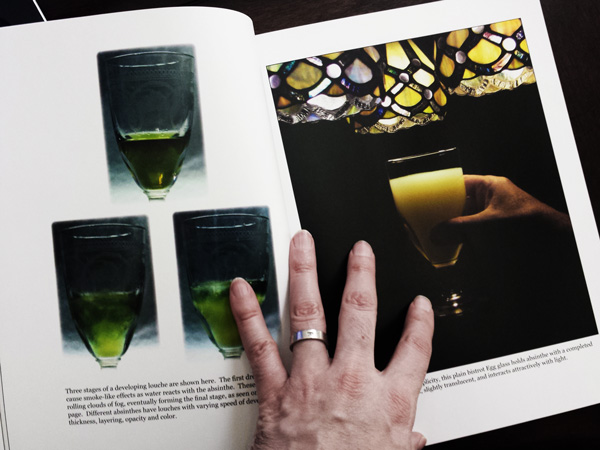 The book also does a fair bit toward transitioning the reader from la Belle Époque to the present day in the latter portions… binding the history of absinthe with the present resurgence is so very important.
Throughout this work – there is evident a great respect for traditions surrounding the spirit and a desire to honor and continue such traditions to this day. Whether employing true antiques or faithful reproductions in preparing the fine absinthes being produced in our current era… this book will instill a true sense of history and appreciation for both the absinthes of our glorious past and of her present and ongoing renewal. Especially so for this present day, in which lady absinthe dusts herself off from a century of imprisonment and neglect… now free to be enjoyed by the greater population once again.
Celebrate with me… have a fine absinthe today… santé!
Learn more about the book:
http://www.absintheantiques.net/
Discover absinthe at the Wormwood Society:
http://wormwoodsociety.org/