Before getting into the topic at hand, just a quick mention that I'll probably be posting more and more in regard to this recent passion of mine (absinthe). I've been exploring the world of absinthe for over two years now – and I learn more and more all the time. It's a passion and as with all passions… it demands that one share it among others.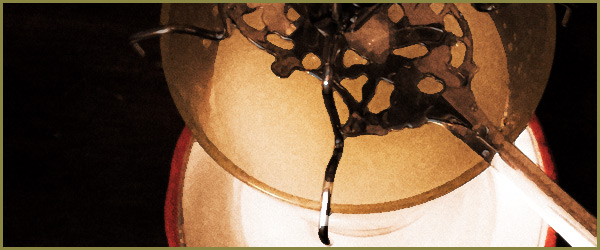 A lot of people in the United States seem to hold two misconceptions about absinthe (if they have any conception of it at all). Either:
Absinthe is illegal in the United States.
The absinthe that can be acquired from shops and mail order in the United States is not "real" absinthe.
These misconceptions are both entirely wrong, of course. Absinthe has been legally available in the United States since 2007 – and the vast majority of this absinthe is traditionally distilled according to old recipes and distillation methodologies using the same ingredients as a century ago. Some distillers have taken their own spin on things in one way or another (to varying degrees of success) – but many have painstakingly produced a product which is authentic and traditional in every way. Couple these commercially available American absinthes with those available from Europe (primarily Switzerland and France) and the absinthe-lover living in the United States today has a wide selection available to him/her!
Where you purchase absinthe will largely depend upon state liquor laws and your level of passion for the spirit. Just about anyone can go to the local liquor store and pick up something like Lucid or Kubler. Both of these do well as mid-market brands and should serve as a good introduction to the spirit for the curious. Those who are more fortunate can pick up some premiere American brands like Leopold Bros., Vilya Spirits, Marteau, or Pacifique. Usually, this is regional. I can walk into just about any store here in Denver and grab a bottle of Leopold Bros. Absinthe Verte. Most are no so fortunate.
So what if all you have in the local store is some terrible Pernod, Grande Absente, or Le Fee Verte? STAY AWAY FROM THAT SWILL! You're going to need to make a purchase online. Luckily, there are some great online retailers which sell a nice assortment of American and imported European absinthes. Whether choosing Catskill Cellars, DrinkUpNY, or Astor Wines… you"ll be able to select from a number of premium labels. If you are curious as to what others think about a certain absinthe – you can easily research the reviews over at the Wormwood Society.
When looking for the widest selection of European absinthe – give Absinthes.com a visit. I'd recommend getting on their mailing list for those who are serious about absinthe. They often have some pretty major sales on already great pricing and sometimes throw in incentives like glasses, spoons, carafes, and other absinthiana. Many vendors also offer free shipping if you buy a minimum amount or have a standard minimal shipping fee.
With absinthe growing in popularity in this country, the best course of action for interested individuals is to stay informed and taste as many different brands as is convenient. Do you have a local absinthe bar in your city? They are popping up everywhere – so keep an eye out as these are great places to try a variety of brands without committing to an entire bottle. With such knowledge and experience, we can help educate others about this misunderstood and maligned spirit.