It's been a number of years since I've done any remix work. Close to a decade, actually! When Alexa of Partition 36 invited me to participate in the 63 Remix Project late last year – I thought it was a great idea. I've always enjoyed Partition 36 and Alexa has contributed to both Emergent Collective releases. Not a hard decision to make, right?
I'm quite pleased at how the tracks I've remixed came together. If you enjoy the Partition 36 originals on 63 – I hope that you feel I've done them justice through these reinterpretations.
Here is the full track list from the 63 Remix Project (my contributions are highlighted):
Zaxxib (bixxaz) – Remixed by Shivervein
Track 23 (Remix 5) – Remixed by Partition 36
/dev/music (Yellow Cloud Mix) – Remixed by treeFungus
Mercy (nothing) – Remixed by An Early Morning Letter, Displaced
Wired Jungle (Dance Remix) – Remixed by Partition36
Track 23 (swollen) – Remixed by An Early Morning Letter, Displaced
The 63 Remix Project is a collaborative project between An Early Morning Letter, Displaced; Partition 36; Shivervein; and treeFungus. 63, the album the tracks were all selected from, was the fourth full-length album from Partition 36. Similar to the previous two releases, most of the music was a mixture of synthpop, industrial, and old demo scene music. This remix project took this sound even further, reworking songs into ambient soundscapes, ethereal tribal rhythms, and pounding experimental dance tracks.
Check out the full release on the Partition 36 Bandcamp page!
---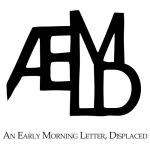 This event also marks another important occasion: the re-emergence of An Early Morning Letter, Displaced. The project has seen about 4 years of absolute dormancy now… it was my intention to completely kill off the project with the release of the 6Threads EP back in 2010. I never made a formal announcement around this because of an unwillingness to let go, I assume.


Since that time, I've taken up another project in the form of Shivervein which was to serve as a new outlet; different from the previous in that it was more varied, experimental, and free-form… less tied to the past. While most new work will probably* come under the Shivervein banner… An Early Morning Letter, Displaced is not dead quite yet.
*Take this with a couple grains of salt…