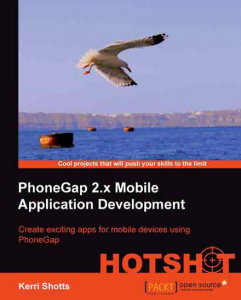 I've been working a lot with PhoneGap lately for both personal projects and teaching. Because of this, I've taken some time to check out some of the newer books on the subject. The last book I've had a chance to look over is the PhoneGap 2.x Mobile Application Development Hotshot published by Packt (Packt being the publisher of my latest book as well – Learning Adobe Edge Animate).
The book itself is just under 400 pages and is structured in an interesting way because every chapter is a different PhoneGap project. These projects include some really great examples of localization, GPS and mapping, file system usage, media generation and consumtion, integration with social networks, even a chapter on using native components within PhoneGap.
One thing about this book is that it seems to be authored in a way where you would want some experience with PhoneGap first – as it is entirely project focused. I'd suggest pairing it with something like Matt Gifford's PhoneGap Mobile Application Development Cookbook, or take Ryan Stewart's excellent Lynda.com course: Up and Running with PhoneGap.