In this project-based workshop, Joseph Labrecque teaches you how to use some of the more advanced features in Adobe Edge Animate 1.0, including responsive layout design, external data consumption, and dynamic content generation. You'll also learn about using compositions on mobile devices, generating content from Flash Professional for use in Animate, and a variety of distribution mechanisms that go well beyond the standard web browser. All this will be demonstrated in the process of creating an animated logo, a responsive header, a dynamic slideshow, and more.
---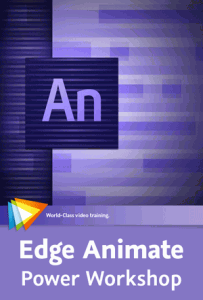 Edge Animate Power Workshop: Go Beyond the Basics
Duration: 4 hrs 20 min
In this workshop you'll go beyond the basics in Edge Animate to begin exploiting the software's full potential. The contents of this course include:
Introducing Adobe Edge Animate
In this introductory chapter, we'll explore some basics of the Edge Animate application and build a foundation for the lessons to come.
Animated Cafe Logo
The lessons in this chapter demonstrate how to build an animated element from scratch using Edge Animate.
Building a Responsive Header
The lessons in this chapter demonstrate how to build a website header that takes advantage of Animate's responsive layout capabilities.
Creating a Dynamic Slideshow
In this chapter you'll see how to ingest externally managed data within an Animate composition that informs the dataset and navigational layout of a dynamic slideshow.
Targeting Mobile Devices
Edge Animate is created with mobile in mind. In this chapter you'll see what this means to you and how to use the Edge Animate features related to mobile.
Edge Animate and Flash Professional
This chapter focuses on the relationship between what may initially be seen as two competing products – Flash Professional and Edge Animate – and demonstrates how they can be used together.
Distributing Compositions
Now that we have all these compositions on hand, what is the most effective method of distribution? This chapter will detail a number of ways in which compositions can be used across platforms.