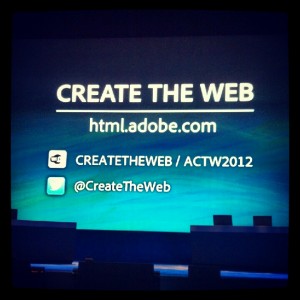 I was fortunate to be able to attend the Create the Web event that Adobe put on in San Francisco early last week. During this one day event, Adobe basically revealed their plans for tooling and services around web standards with a series of announcements, walkthroughs, and deep dives. As someone who is heavily invested in the Flash Platform but has also worked extensively in HTML & Friends over an even longer amount of time, I came away from the event with some very positive feelings in the direction they are taking all of this.
Note that some of this post takes on a more journalistic tone than many of my others. If you don't want to know the more personal details of my trip – you may want to simply skip to the bottom for major take-aways :)
Sunday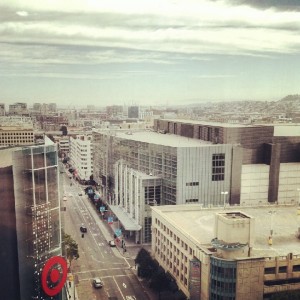 I flew in late Sunday morning from Denver and landed in San Francisco around noon. A quick taxi ride to the Marriot Marquis and I was all checked in. There was nothing on the official schedule for the day or evening, but some of the community people who had traveled to the event were arranging a small get together that evening and I had some time to kill beforehand. Fellow Denver AEL, Matthew Leach, and I decided to walk around the city and explore some of the local attractions. In many ways, San Francisco reminded me of the 16th Street Mall here in Denver – just spread out over a much wider area. Evening was spent with Matthew, Tom Green, Dee Sadler & co., and Doug Winnie; drinks, dinner, and a really interesting trolley ride!
Fun Fact (1): This was my first time back in San Francisco since Adobe MAX 2008!
Fun Fact (2): Same hotel, too!
Monday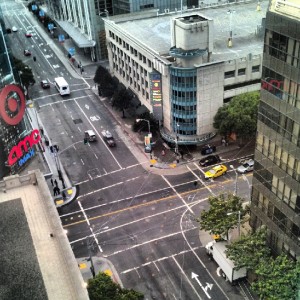 Monday was the event itself: an entire day (and evening) of presentations and gatherings around Adobe and the web. After a nice little breakfast, I checked into the event and had some nice conversations with a whole assortment of fine people from the general community and from the Adobe and Animate teams.
Doors opened around 10:00 and I was able to get some nice seats up front. The keynote itself started with a good overview of contributions Adobe has made to WebKit, the W3C, jQuery Mobile, and such. It's actually really impressive that they've been able to get features like magazine-type layouts and CSS Shaders into the spec (and into some browsers!) as quickly as they have. An online tool, CSS FilterLab, is available to see a bunch of filters and custom shaders in action – it is quite impressive.
The second half of the keynote was focused on tooling and services. Specifically, a new suite called Edge Tools and Services; Edge Animate, Edge Code, Edge Reflow, Edge Inspect, Edge WebFonts, and PhoneGap Build. This is an entirely new suite of products and services targeting web standards in a way which Adobe has not traditionally been involved in; rapid, transparent development practices, feedback from the community early and often, even including community contributions in core application codebases. It really is what open source Adobe Flex should have been and it is good to see that some have learned a lesson or two from how that was handled. I am excited for this new family of tools and am glad to be a part of it from the very beginning with my work through the Edge Advisory Board.
A presentation on "The Graphical Web" followed the keynote. It was honestly a bit dry… if you've have been involved in the Flash community for the past 15 years of so – the immediate takeaway is that the 7 different technologies showcased during the presentation were sort of retreading old areas. It's great that the web can do a lot of this natively, do not get me wrong – I am happy to see it all coming together, but it is hard to get excited for "new" things you've been doing for 10+ years already. Sorry – I am hard to please!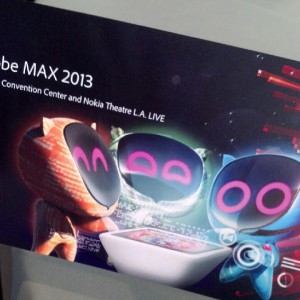 The remainder of the day consisted of time for lunch and a number of sessions focused upon different tools in the new suite and beyond. The session on Animate was very good and including both Sarah Hunt and Lee Brimelow together for this portion was brilliant. One aspect of Animate I've always tried to focus on are the similarities with Flash Professional and how simple it is to pick up and just start using this new tool for those already familiar with Flash Pro. The other stand-out session for me included the experimental Pipeline demos from Tara Jane Feener and company. Some really neat web inspection with Chrome… I want to see more of what they are working on!
After the conclusion of the event, a few of us AELs gathered in the hotel lobby to talk about what we'd seen that day. I think all of us came away quite positive from the experience – though questions around how to teach around these tools and services will remain with us for quite some time. The good thing is that many of us are already teaching Animate, Inspect, and the technologies around them… so I'm sure we'll figure something out :)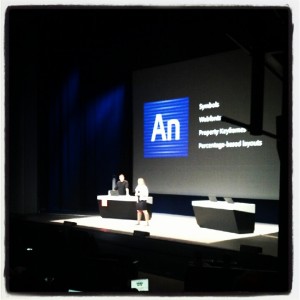 That evening, the Animate team threw a sort of release party for Edge Animate 1.0 and I couldn't be happier to see this go gold! After working on my soon to be published book, Learning Adobe Edge Animate, for over a year now – amidst all of the changes that were thrown in at the strangest times during the production cycle… and some of the most bizarre scheduling I've ever seen in my nearly 8 years of Adobe prerelease experience: again… I could not be happier.
The great thing on top of this is that the final product really is a killer application. It's fun to use and even after working with it so closely over the past year or more – I am still learning all sorts of neat things with every project and demo I build with it. Big congrats to Sarah Hunt, Mark Anders, Rich Lee, and the rest of the team! (and thanks for putting up with us cranky authors)
The night wrapped with a splendid dinner with members of the Adobe Education team and a few fellow AELs. (Thank you, Claire!)
Tuesday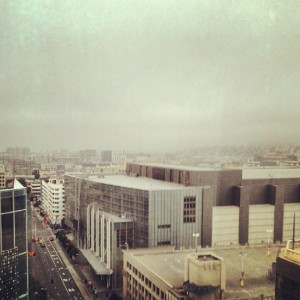 The day after. Not much to say, really. I spent a good part of the morning simply gathering everything from my hotel room and packing. I was a bit nervous for my flight seeing the thick fog that had engulfed the area. Turns out to be not a huge deal though as my flight was able to leave on time. After gathering my things and checking out, Tom and I were scheduled to have a quick breakfast with video2brain so that we could finally meet some of the people we'd been working with so much. Additionally, we chatted about some new courses in the works. More on that soon.
A personal challenge for myself during this trip was that I intentionally left my laptop at home. All I had with me was an Android phone and tablet – and I never even powered on the tablet. Looks like I can survive without hauling a huge laptop around, afterall. Good to know for the future!
Impact on Education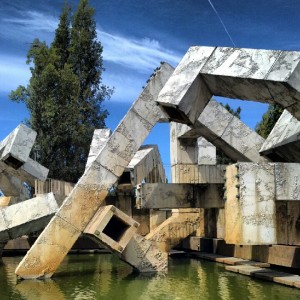 As an Adobe Education Leader; at events like this I am always mindful to try and see things from the faculty and student perspective. Teaching complex subjects such as animation, interactivity, and responsive design has been difficult for a number of reasons; primary amoung these are the amount of prerequisite knowledge required to even approach these activities, and the sheer amount of unaided time and effort required. What Adobe is now doing with the Edge Tools and Services is astounding because they are introducing tools which address both of these issues. This allows the instructor to teach concepts and techniques using tangible assets and the student to freely express their vision in a much more direct and familiar way. In terms of emerging web technologies: Adobe has thrown open the doors to a renaissance!

(psst! I'm at 1:24!)
Keep in Mind…
I have a few lingering thoughts after the event on points that I do not think were mentioned at all during the week, glossed over by some, or totally ignored alltogether: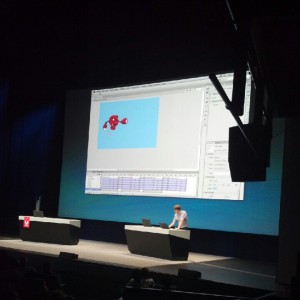 Create the Web is not a Flash event. I knew this, of course – and even though Flash was mentioned a LOT during some of the sessions… no one should expect any major Flash announcements from an event focused on web standards. I saw a bit of grumbling over my Twitter stream around this – it just isn't the focus of the event. There is a ton of great activity around the runtimes and tooling; new public betas, Flash Builder 4.7, "Hellcat", project "Monocle", a new ActionScript Compiler (ASC 2.0), a revision of both the runtime virtual machine and ActionScript language – Flash peeps have a lot to look forward to.
Adobe has been investing in html for years before this. Certainly not as much as they are now – but to frame this as Adobe "waking up" around HTML and web is just off. HTML has been stagnant for years upon years. Now that there is activity in this area, of course Adobe is going to contribute.
Adobe has been involved in many open source and open spec projects in the past. This isn't new for them. There are open specs around PDF, SWF, RTMP, et cetera… not to mention the Adobe Flex framework, Open Source Media Framework, the oAuth 2.0 Library for ActionScript, and many other great libraries of code. Adobe has been strong on "open" long before HTML5.
Stop assuming anyone involved in web standards is "moving on" from Flash or anything else. I was going to write a whole post about this… drives me insane. Please do not use such dismissive phrases as "moving on" when talking to the Flash crowd: chances are, they were doing the web standards thing before ever touching Flash… and have been using both in parallel for many years. It is frustrating and diminishes the great work that many have done and continue to do with this platform.
A better enabled, more expressive web is good for everyone. I mean… c'mon! Don't hate on HTML & Friends just because of it's peculiarities. It is the foundation of the web, after all.
Thanks for reading!