Last week, Google announced a few things. One being that Google Music was now available without and invite. The second being Google Music for Artists, which is what I'll be writing about in this post.
I've been wondering for some time whether Google would be opening some way for artists and labels to distribute music through the Android Market. There have been rumors for some time and as a user of Google Music Beta, I've enjoyed other music-based offerings provided by the company. When I initially saw that Google had now opened up an artist portal, I was intrigued but didn't actually check it out right away simply because I wasn't sure I wanted to dedicate the time in setting up yet another outlet for my studio recording project, "An Early Morning Letter, Displaced".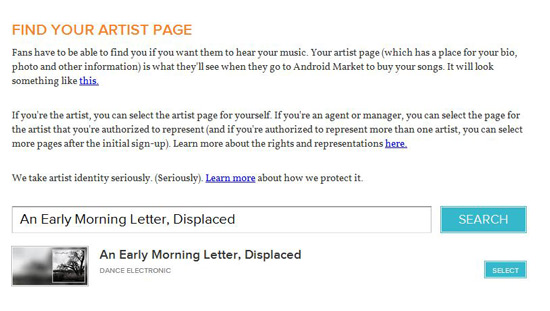 Once I did get around to checking out their service though, I was met with a number of pleasant surprises. The first being that Google already was aware of my project and had even prepared a sort of stub artist page for it. When an artist or label enters the artist hub to add an artist, they will first be provided with a search mechanism as seen above.

The biggest surprise came when I actually claimed the page and set up a payment plan through Google Checkout. As seen in the screenshot above, Google actually waived the $25 setup fee! It says that they are doing this since they already had a page set up for me- so mileage on this one may vary. I can image though, a lot of artists are much more well known than my little project so if you are interested… go claim your page right away as they most likely will not be offering this waiver forever. Who knows. Kudos to Google either way.
Setup of the actual artist page is very straightforward. You supply an image, bio, links… standard fare. Setting up albums is a really nice experience though. You must create a new album, which is populated with a title, price, release data, type of release, and high quality album artwork. You'll next need access to your CD-ready files from mastering, so hopefully you have those handy :) They obviously take some time to upload, after which you can then provide track meta-data along with individual prices. You can also allow certain tracks to provide limited free listens, if desired. Once finished, you hit publish and it generally took, in my case, a few hours for Google to approve the album.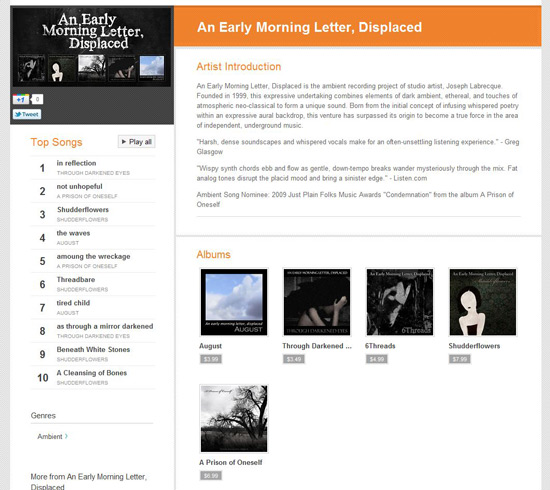 At this point, you can have a full artist page and albums for sale on Android Market. Pretty cool, no?
One side note: this is not yet available in all countries… so many non-US artists will feel miffed, initially. I do hope Google is able to expand these services beyond the United States very soon!