I'm happy to announce that I've undertaken a new authoring project for Adobe Press along with co-author Peter Elst and video2brain! The project is titled Mobile Development with Flash Professional CS5.5 : Learn by Video and is available for preorder on the Adobe Press website and at Amazon.com.
At this point, I'm nearly half-way through recording my video segments for the project and feel as though everything is coming together really nicely. I'm using Flash Professional for most of my segments, although the lessons Peter is working on will cover Flash Builder as well. While the Flash Professional code editor definitely leaves something to be desired after doing so much work with Flash Builder, I'm finding the focus on Flash Pro to be a rather welcome one for myself. I expect recording to be completed during the first week of June.
Anyhow- this makes two major publications so far this year- both of them on topics that I just cannot get enough of!
Note that I've set up a page to include information for all my publications over at http://josephlabrecque.com/books/.
---
Mobile Development with Flash Professional CS5.5 : Learn by Video
Authors: video2brain, Peter Elst, Joseph Labrecque
Publisher: Adobe Press; 1 edition (August 26, 2011)
ISBN-10: 0321788109
ISBN-13: 978-0321788108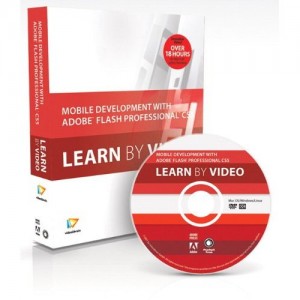 After an industry debate that made headlines for months, designers and developers can use their Adobe Flash Professional, Flex, and ActionScript skills to quickly begin developing applications for the iPhone, iPad, and iPod touch, as well as for Android devices. In this in-depth course, you'll learn from the ground up how to set up your system to become a mobile developer, create applications, and master each step of the publishing process.
Where to buy?