At the Adobe Education Leader Summer Institute this past July, I gave a presentation entitled Leveraging the Flash Platform to Deliver Dynamic Media Across Campus which dealt with what the University of Denver is working on in regard to the Flash Platform, focusing upon our work with CourseMedia™. I received a good deal of positive feedback from both Adobe employees and fellow AELs (Adobe Education Leaders) in attendance.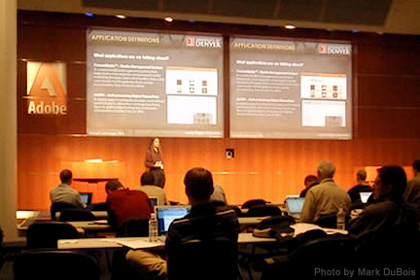 A few weeks after the event, I was contacted by the Adobe Education team to gauge my interest in being part of a seminar series they were putting together around how universities are implementing video solutions across campus. DU CourseMedia™ will be one of the points of focus in the upcoming seminar series.
Please learn more and register for the event to join us through Adobe Connect for the following sessions:
SESSION 1 – Video Use Cases in Higher Education: Expand your audience through video (September 9)
SESSION 2 – From Concept to Distribution: Products that will help you capture, edit, and distribute your video online (September 16)
SESSION 3 – Making it all happen: A discussion of how to implement a video solution at your institution (September 23)
I'll be presenting on both the 1st and 3rd sessions along with Sandy Balzer, John Schuman, and Nick Hippe from Adobe. DU's Leslie Trumble will also be joining us in presenting Session 1 to contribute her unique perspective on faculty usage through her work at the Visual Media Center.