The University of Denver Center for Teaching & Learning has (finally) released the DU CourseMedia™ Course Media Management System. This has been a focus of my work for the past 5 months or so and is one of the major CTL projects for 2009. Some may recall the mention of the DUVAGA system from time-to-time. CourseMedia™ is DUVAGA reborn.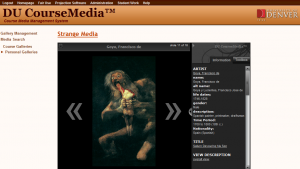 DU CourseMedia™ was developed by the Center for Teaching and Learning at the University of Denver as a course-based media presentation tool for organizing and presenting high quality images and videos to system participants. Although it was initially built with the needs of faculty in the school of art and art history in mind, DU CourseMedia™ is now used by faculty in many other disciplines in approximately 250 courses each term.
Through DU CourseMedia™, instructors have access to over 50,000 art and world history images and over 2000 library reserve videos. DU Course Media™ allows instructors to create online galleries that can include streaming video, images, text slides, discussion boards, quizzes, and voice narrations.
Some of the highlights of the new release are as follows:
Complete overhaul of how media objects are accessed
Entire media galleries can now be shared across permitted websites
Gallery object functionality is raised one level to become more accessible for users
The new Media Viewer is written from scratch with the input of DU faculty, staff and students
The Media Viewer is a Flash application written upon the Flex framework
The VPS Projection System, an application which runs upon the Adobe AIR runtime has also recieved a number of updates
I'll be presenting on DU CourseMedia™ at the Adobe Education Leader Institute this summer.
To see an overview of the new features, you can check out a screencast produced by Alex Martinez, ColdFusion developer for the CTL.
A screencast specific to the Media Viewer was also authored by Jenn Light.